Ingvild Fossgard Sandøy has always had a desire to use her education to do something meaningful and to help others. Now she leads the Zambian based project RISE, aiming to reduce teenage pregnancies.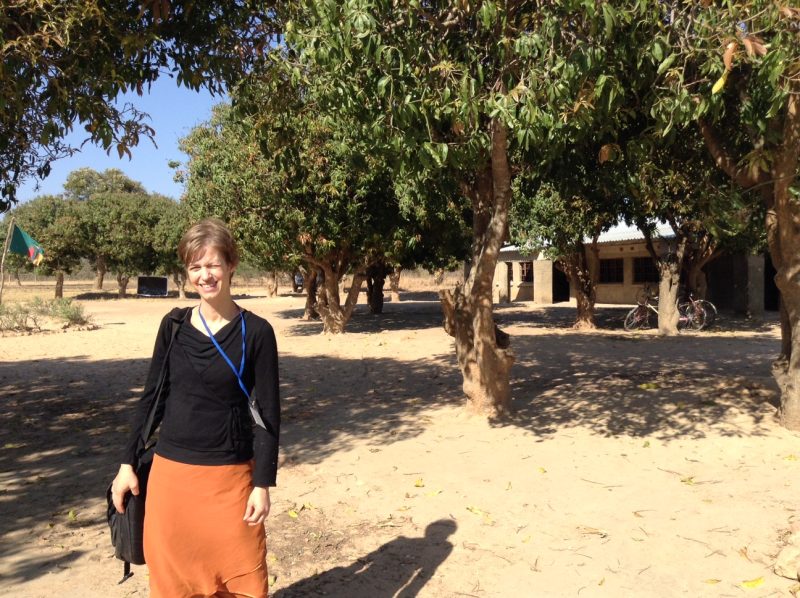 Professor Ingvild Fossgard Sandøy
Photo by: CISMAC/UiB
Can empowerment of girls reduce adolescent childbearing?
"It makes an impression on you to see how, often due to poverty, girls as young as 12 to 14 years of age become pregnant and have babies, while they are still children themselves," says Ingvild Fossgard Sandøy. She goes on to say, "In many parts of Africa it is typical that the family receives a bride-price in the form of money or cattle from the husband and his family when he marries heir daughter, and many poor parents marry off their daughters at an early stage in order to supplement their family's income."
Ingvild Sandøy has been working in Southern Africa for many years, evaluating the effects of home-based HIV testing and other sexual and reproductive health challenges in low-income countries. She currently leads the CISMAC project "RISE - Research Initiative to Support the Empowerment of girls", carried out with co-Principal Investigator Patrick Musonda from the University of Zambia.
Working with them is an interdisciplinary team of researchers from the University of Bergen, the University of Zambia, the Chr. Michelsen Institute and the Norwegian School of Economics. In the autumn of 2015, this project was awarded a prestigious GLOBVAC grant of NOK 25 million (almost 3 mill US $) from the Research Council of Norway.
Teenage pregnancies carry a high risk to mother and child
"Early pregnancy represents a serious health risk for both the girls themselves and the children they are carrying. Many children and young people in Zambia grow up in tough conditions and if they drop out of school, there is a particularly high risk of them marrying or becoming pregnant at an early age" says Ingvild Sandøy. In Zambia, it is estimated that as many as 35% of girls from rural areas have given birth to at least one child by the age of 18.


When a girl becomes pregnant before she turns 18, there is a greater risk of the baby being premature or of low birth weight
"When a girl becomes pregnant before she turns 18, there is a greater risk of the baby being premature or of low birth weight, or both. These children have an increased risk of experiencing complications, disease and even death. The girls themselves are also at an increased risk. Pregnancy and illegal abortion are the most common causes of death among adolescent girls in poor countries.
In Zambia, as in many other countries, rural girls and girls who have dropped out of school are at greater risk of becoming pregnant at a young age," Ingvild Sandøy explains. The project aims to increase the proportion of girls who complete junior secondary school and to reduce the number of teenage pregnancies.
Financial support to families can help keep girls in school
As part of the project, a package of support measures are being implemented to help girls remain in or return to school, and to assist those who are not able to return to school by helping them to delay becoming pregnant. One of the problems in Zambia is that the country only has a limited number of available places at secondary school level, and not everyone can be given the opportunity to attend.
"It has been shown that dropping out of school and early pregnancy are associated with poverty, so we would like to see whether it helps if girls and their parents are provided with financial support. The money can be used to cover school-related expenses or other necessary items," Ingvild Sandøy says.
About RISE: Research Initiative to Support the Empowerment of girls
•  The trial started March 2016 and is planned to run to December 2020
•  There are 3 study branches: Control, economic support and combination of economic support and community dialogue
•  4900 girls of about 14 years of age participate in the trial
•  Girls are enrolled in 157 schools in 12 different study districts
•  Girls will be followed up for 4.5 years
•  The researchers are primarily interested in the effects on the proportion of girls giving birth before age 18, and the proportion of girls who complete grade 9

Community dialogue may create an enabling environment
The GLOBVAC financing will also enable the project to test any additional positive effects of engaging in dialogue meetings in the local communities. The dialogues are intended to start a discussion in the local community about how education, and postponement of marriage and pregnancy, may benefit girls and their future children.
They will also increase knowledge about the use of contraceptive methods. Our hope is that this will promote supportive beliefs and norms that will make it possible and more attractive for girls to delay marriage and pregnancy until they are more physically and cognitively mature.
Clarifying myths and improving knowledge supports better health
Sandøy highlights that "On paper, Zambia has a comprehensive school curriculum for sexual and reproductive health, but the practical implementation is often something completely different. Teachers mostly talk about sexual abstinence. There is a lack of knowledge about modern contraception.
For example, there is a wide-spread myth that you can become infertile if you use hormonal contraception before you have had children." She goes on to clarify, "The long-term goal is, of course, to promote young girls' health and enhance their opportunities; this will have positive ramifications for their families in the future.
Meaningful and useful research
Ingvild Sandøy has always had a desire to use her education to do something meaningful and to help others. She says, "It is incredibly exciting to learn new things, to have the opportunity to immerse myself in what I'm interested in. In one way, it is like being an eternal student. With the high quality scientific projects we carry out in CISMAC, our work can actually contribute to improved health for girls, women and children," and emphasizes "I consider it extremely meaningful to study measures that can enhance education and improve health and opportunities in countries where people live more challenging lives than we do. The greater the challenges, the greater the potential for improvements."
---
This interview was published in the 2016 annual report of CISMAC, University of Bergen.