Esperanza Diaz at IGS has published the first book in history In English on migrant health – a resource for general practitioners.
During theannual conference for general practitioners, WONCA Europe Conference 2019, in Bratislava, Esperanza Diaz signed her newly published book: Migrant Health: A Primary Care Perspective.It was the one and only book presentation at the conference attended by around 2000 doctors from all over the world.
"This is the first book ever published on migrant health for general practitioners, written in English," says Diaz, who is an Associate Professor at the Department of Global Public Health and Primary Care (IGS), University of Bergen (UiB).

Diaz has written the book together with Bernadette Kumar at the Norwegian Institute of Public Health.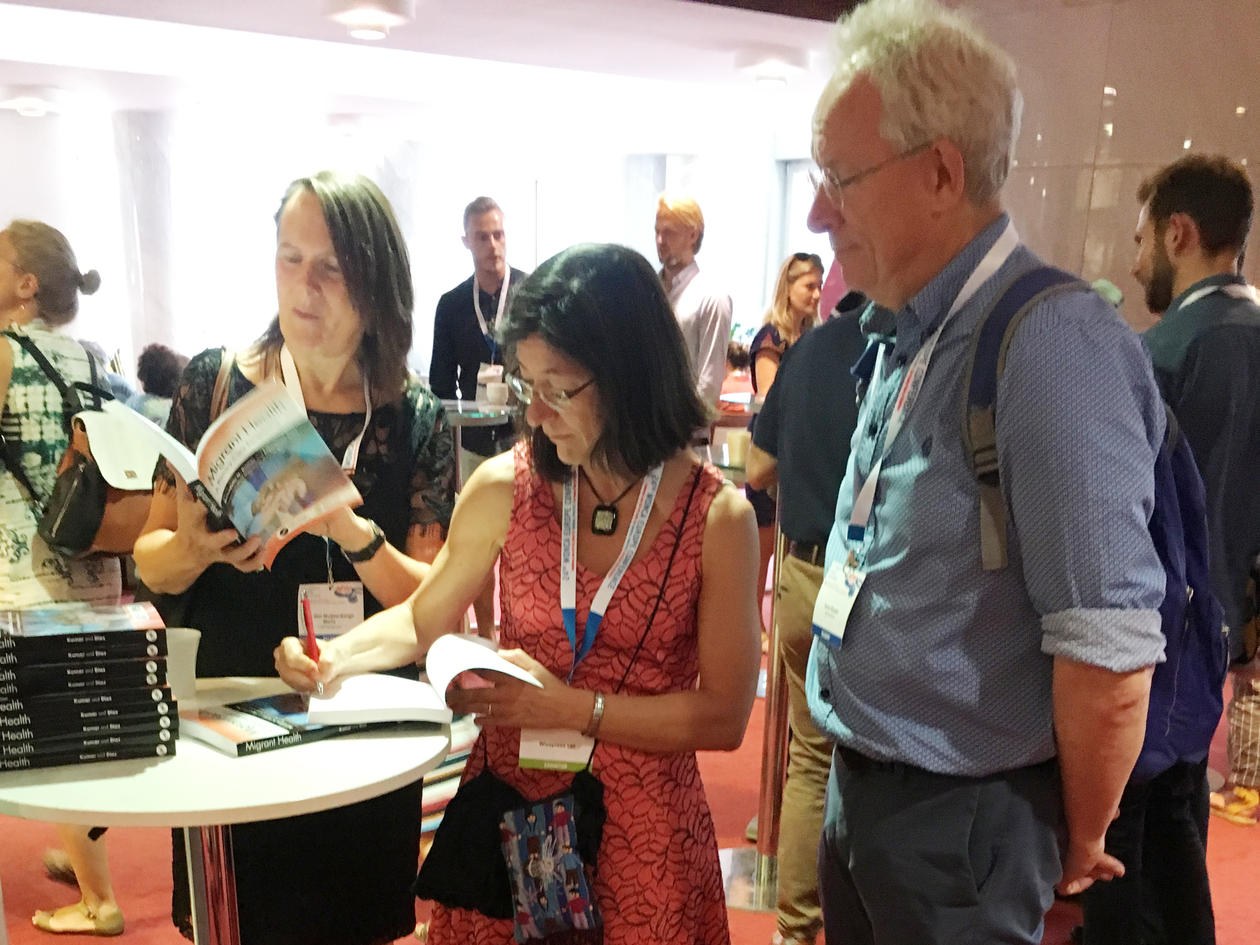 Esperanza Diaz signing her new book, Migrant Health: A Primary Care Perspective, at a stand in Bratislava.
Useful tips for doctors
The contract for writing the book was drawn up three years ago with the publisher Taylor and Francis Group. They were interested because there was no such book on the market. It is organized in age groups from migrant children to elderly migrants and addresses the different challenges doctors can meet in these different age groups. The book also contains concrete tips for the interactions with migrants.
"Imagine a dementia test where you are asked to count downwards from 100 to 0. This is not easy if you do not know the language and the numbers very well. You can easily end up being mislabeled as a person with dementia, even if you are not," Diaz points out.

"Instead you could do the test by answering questions such as, what you bought in the shop, to avoid cultural hindrances."
Can be used in education

The book, containing practical tips to deal with cultural differences between the general practitioner in primary health care and patients with migrant backgrounds, is also suitable for other health personnel and students.

"It is a practical book, based on experiences with migrants, but it is also based on research. Therefore it is suitable for education and training purposes," says Esperanza Diaz.

Diaz will use the book in her next year's courses in migrant health at the University of Bergen.