Nearly 200 researchers, institute leaders and students met in Oslo for the Norwegian Global Health Conference addressing the issue of health system strengthening.  
Hosted by the University of Oslo (UiO) (including Centre for Global Health and others) and the Norwegian Institute of Public Health (NIPH), the conference is the first one to be organized by the new national global health network, Global Health Norway (GHN).
Welcome!
Frode Vartdal, Dean of the Faculty of Medicine at UiO, opened the conference by reminding us that the concept of "Health for All" is not new, it originated in 1978, and has been an important organizing principle for multi-disciplinary approaches at WHO since. The theme has been part of the MDGs and SDGs and has helped focus attention on universal access.
Camilla Stoltenberg, the Director of FHI, in her welcoming remarks, underlined that global health is also important to national health. She highlighted that global health is part of the official health strategy for Norway 2021, for this very reason. She stressed that collaborations, partnerships, and network activity are critical to helping researchers provide evidence-based input to address the challenges we face in global health. She says that stronger, more universal health systems are needed to address these challenges.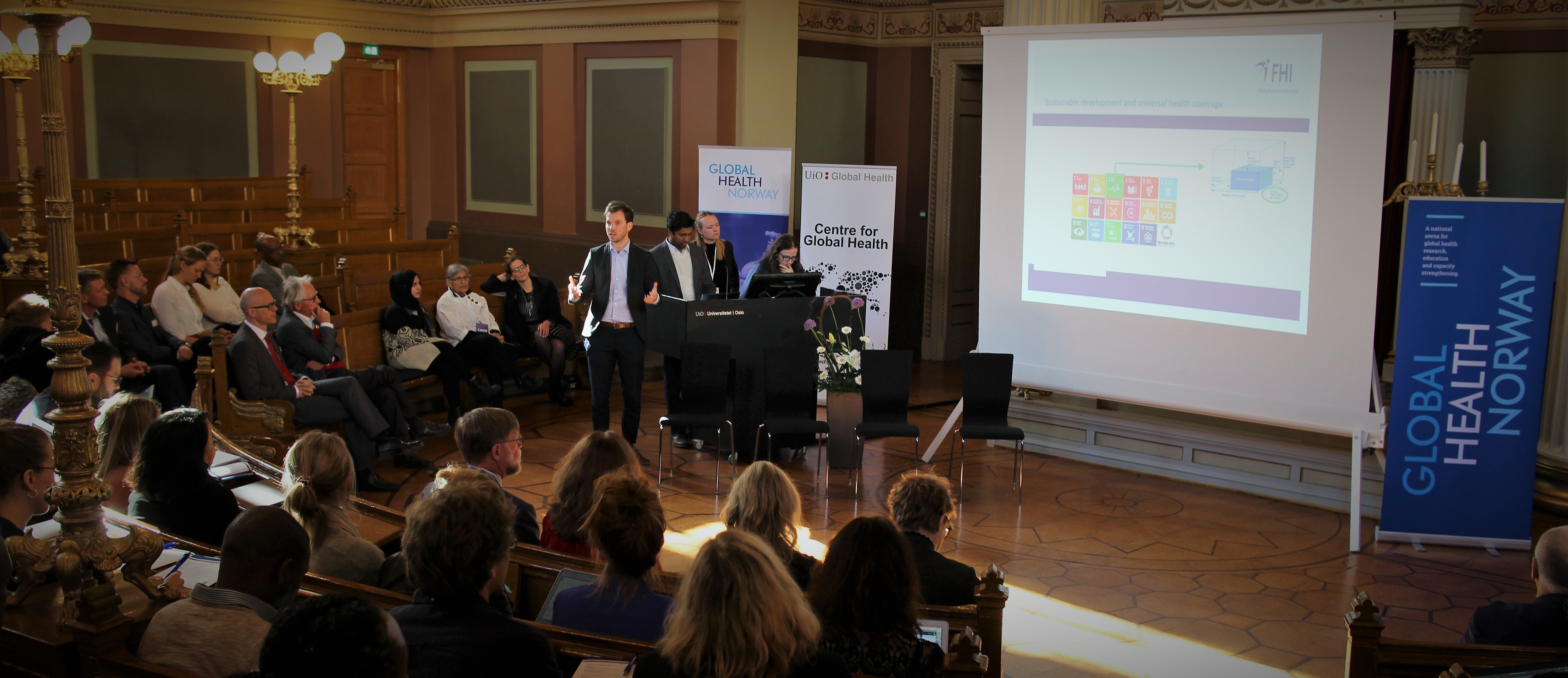 Humility, bold vision and scientific vigour
Keynote speaker, Göran Tomson, Senior Professor at Karolinska Institutet, quoted an article from Global Health that stated: "Looking forward, linking humility with bold vision to scientific rigour is the surest way to value and equity in Global Health." 
Tomson spoke especially about the importance of the next generation – that we need to train and equip young, up and coming researchers to take on the challenges of today and tomorrow. He cited Einstein: "We cannot solve problems by using the same kind of thinking we used when we created them."
Educating Agents of Change
Tomson is the co-founded of a new research institute, the Swedish Institute for Global Health Transformation (SIGHT), which was established in January 2017. SIGHT has a strong focus on the next generation with its Fellowship programme that currently involves 7 young researchers from different countries. 
Tomson highlighted the multi-disciplinary nature of global health research quoting Steve Jobbs about there being something magical at "the intersection between humanities and science". He stressed the need for universities to re-consider their function and role, and strongly urged conference attendees to think about how they can better engage with society about their work. He spoke of universities not only educating experts, but using adaptive and transformative learning techniques to form, the next generation of professionals, who will also be agents of change.
Using "evidence-informed deliberative processes"
Tomson spoke of the need to work together to help countries find their own paths to Universal Health Coverage (UHC), including aspects such as financial risk projection, access to quality essential health-care services and access to safe, quality and affordable essential medicines and vaccines.
As a Visiting Professor at Shandong University in China, as well as his extensive international research and policy work that focuses on universal health coverage and carried out in China and other countries, Tomson was able to share some insights about China's global thinking in a plan called the One Belt One Road Initiative. He also underlined the possibilities in Africa as it will continue to rapidly develop in the decades to come.
Interconnectivity
In his presentation, Tomson talked about the 17 SDG goals, 169 targets and 239 indicators all being interlinked – addressing one generally touches on many others. For example, SDG 1 and SDG 3, where people are pushed into extreme poverty by catastrophic health costs. 
Global health challenges are interconnected, complex and extremely difficult to solve, according to Tomson, and he recommends thinking about a philosophy advocated in Thailand, notably by Dr. Pawasi Wasi. Wasi wrote an article for WHO entitled, ""Triangle That Moves The Mountain" and Health Systems Reform Movement in Thailand".  Wasi writes: "The "Triangle that Moves the Mountain" is a conceptualized strategy initiated as a social tool for solving difficult social problems, by simultaneously strengthening capacity in three interrelated sectors: (1) creation of knowledge; (2) social movement; and (3) political involvement." 
Tomson concluded by stressing the importance of the social / society in global health problem solving. He says that it is important to involve everyone – lay people, NGOs, policy makers etc.
Following Tomson's keynote address, conference participants attended a series of mini-symposia dealing with a variety of topics. Read more in the conference programme.
More about the conference:
PhD Conference in Global Health 11-13 April 2018
Highlights from Richard Horton's concluding lecture
Richard Horton, closing speaker at the conference (short podcast, video to come)