In August 2017, Professor Abraham Haileamlak Mitike from Jimma University, Ethiopia, accepted an honorary doctorate at the University of Oslo's Faculty of Medicine.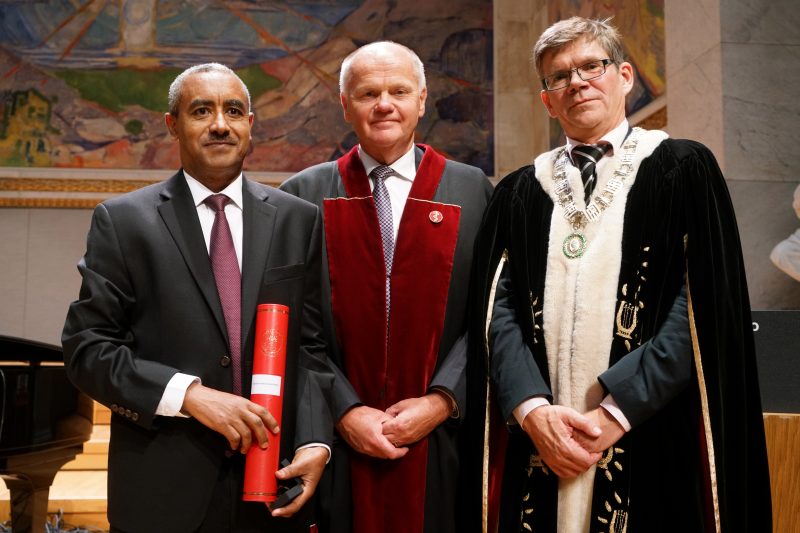 Professor Abraham Hailemlak Mitiko receives Honorary Doctorate at the University of Oslo, September 2017.
Photo by: Terje Heiestad/UiO
The award is a new milestone in the more than 50-year history of cooperation between Ethiopia and Norway in the health sector, which today involves several of the largest Norwegian hospitals and universities.

Leprosy and Royalty
Shortly after the Norwegian Agency for Development Cooperation (Norad) was founded in 1968, it contributed financing to a new research institute in Addis Ababa, Ethiopia, named after Dr. Gerhard Henrik Armauer Hansen. Hansen was a scientist from Bergen, Norway, who in 1873 identified the bacterium that causes leprosy, Mycobacterium leprae.
The Armauer Hansen Research Institute (AHRI) was established in collaboration with the Ethiopian Ministry of Health in 1969, after an initiative by the Swedish and Norwegian chapters of Save the Children.
This came after a period of strengthening relations between Ethiopia and Norway since the Second World War, when members of the Ethiopian and Norwegian royalty became acquainted while in exile in London. Emperor Haile Selassie I of Ethiopia visited Norway in 1954 and King Olav V of Norway in turn visited Ethiopia in 1966. In the 1950s and 60s, Norway contributed to Ethiopian infrastructure projects related to navy, roads and hydropower.

Selected Projects
University of Oslo: SACCADE is a collaboration with Jimma University and St Paul's Hospital Millennium Medical College, Ethiopia.
University of Bergen: Disease Control Priorities-Ethiopia (DCP-E) will train researchers and policymakers in health economics, decision sciences and priority setting.
Oslo University Hospital: Residency training program in oncology and Master's program in clinical oncology nursing at Black Lion Hospital, Addis Ababa, Ethiopia.
The first director of AHRI was Dr. Morten Harboe of Norway, a physician and researcher on immunologic aspects of mycobacterium infections, mainly leprosy and tuberculosis. When Dr. Harboe returned to Oslo in 1970, the 31-year-old Norwegian physician Tore Godal became the second director of AHRI. 47 years later, Dr. Godal still plays a central role in Norwegian global health policy, and the institute has awarded the eponymous Tore Godal Prize annually for seventeen years. Dr. Harboe was later Dean of the Medical Faculty of the University of Oslo (1977-1980).
Bilateral relations and continuity
The 1980s and 1990s saw broadening cooperation between Ethiopian and Norwegian actors, in large part informally, through volunteer organizations that established projects in Ethiopia. In 1995 a Norwegian embassy was opened in Addis Ababa, and the year after the Norwegian Ministry of Foreign Affairs declared Ethiopia a prioritized partner country. In the most recent Government White Paper on foreign affairs and development (2017), it is still counted among prioritized partner countries.
Today, several Norwegian institutions and organizations have ongoing projects with Ethiopian partners, including the University of Oslo, the University of Bergen, Oslo University Hospital, Bergen Hospital Trust and the Norwegian Institute of Public Health. The activities range from infectious disease research to health care personnel specialization.
Some projects build on long histories of collaboration. In February 2017, Addis Ababa University inaugurated a newly renovated Dental Health Service and Training Department supported by donations from the University of Bergen and the Norwegian Embassy. Collaboration between the universities in the field of odontology traces at least back to research on dental fluorosis that started in the 1990s.
In November 2017, the Crown Prince and Princess of Norway visited Ethiopia, following in the footsteps of King Olav V, fifty-one years previous. A key event during their visit was a conference on health and higher education organized by Armauer Hansen Research Institute and Oslo University Hospital.

Read more / Sources

---